Secondary Glazing and Condensation
Condensation occurs as a result of evaporated water in warm air meeting a colder surface, when the moisture becomes water droplets, and settles there. The colder the air, the less moisture it is able to hold. It is typical that the coldest surface in a room will attract condensation as a result, which might be external windows in a bedroom, that are cooled by the outside air, or a mirror in a bathroom, for example. When moist air cools, the water has to go somewhere, so a cold north facing wall with wallpaper might not show moisture in the same way as a window, but it can still become damp. Condensation is not pretty to look at, but it can also cause puddles on window sills, or encourage the growth of black mould, which has its own health issues.
There are many everyday activities which increase the natural moisture content of air around the house, as a matter of course. Breathing, cooking, laundry, houseplants and normal use of shower and bath all release moisture into the air, and ironically, with better insulation in the home, moisture that accumulates no longer disappears up chimneys, through leaks in windows or floorboards and under doors. There is a difference between these causes of moisture and dampness caused by leaky pipes, holes in the roof or damp through brickwork, which should be treated immediately – we are concentrating on everyday, unavoidable causes, and the best ways to deal with these.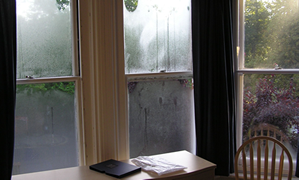 Tubeway are often asked how to reduce or eliminate domestic condensation. There are several ways:
Produce less moisture. Simple steps include cooking with lids on pans, using a tumble dryer to dry laundry instead of hanging wet clothes on radiators, but these actions will only go so far; people are not going to breathe less or stop bathing, so some moisture is inevitable
Ventilate regularly. Let the warm moist air out in exchange for cooler dry air. As this also reduces the temperature in the house there may have to be compromises struck with the occupants (e.g. ventilate by day when the house is empty).
Confine moisture to certain areas where ventilation has less impact. For example, you can keep the bathroom and kitchen doors closed and just ventilate these rooms
Install a de-humidifier. This may work out cheaper in the long run than a tumble dryer
Manage the ambient temperature within the property to a level that allows the air to retain most moisture until you can ventilate it. This can be more efficient than to have a warm-cold-warm cylce of heating, as a background low level heat can keep the walls and fabric of a building warmer and reduce the moisture that condensates
Easyfix Condensation Experiment
In order to advise our customers about the effectiveness of Easyfix Secondary Glazing systems (or any others, for that matter) in eliminating condensation, we researched the causes and remedies, as detailed above. Secondary Glazing does not reduce the airborne moisture in a property, so it cannot solve a condensation issue. However, by helping retain heat and therefore have less moisture condensation, and by properly insulating the most common place for water to condensate, i.e. the outer windows, the worst visible effects are usually significantly reduced. To test the impact ourselves, we ran an experiment in a room where Magnetglaze was installed on the sash windows – the results on the different windows, with or temporarily without Secondary Glazing, are in the video alongside.
The test was set up to be as simple as possible. On a typical winter evening, a living room had one secondary pane window left off; the room was then used as normal, the heating was off during the night and fortunately, as predicted, the temperature fell to about 4°C. Condensation resulted – watch and see.