Heat Retention from Secondary Glazing
Two things seem inevitable each year in late autumn. Energy bills will be uncomfortably large, and we will all want to be more warm and cosy at home. So do we crank up the heating or have a good think about how to reduce heat loss? Better insulation lets you achieve a pleasant ambient temperature with the heating on a lower level and less often, as there will be fewer draughts and cold spots around the house. In most homes, heat loss is most from windows and roofs, so once you have properly lagged the loft or roofspace, you need to choose the best way to insulate your main windows. This is more complex, not just because there are more alternatives, but because their appearance and features impact more on your day to day personal living space.
For those potential customer in hotter climates than the UK, it is worth noting that the insulation provided by Secondary Glazing and good Draught Proofing will work in reverse, to keep the heat out of your property if you are using air-conditioning inside, in summer. Tubeway have a number of customers in South Africa, Australia, France and Spain, for example, who have taken advantage of this extra benefit.
Secondary Glazing vs Alternatives
Most people think about fitting Triple or Double Glazing, as these are familiar to us all and often come as "standard" in new residential property. Such windows are smart, easy to operate and insulate well; they often incorporate features such as trickle vents that combat condensation plus security locks. But Double and Triple Glazing can be hugely expensive, disruptive and messy to install (because the existing windows are removed completely), and the sealed unitswill fail at some point, needing to be scrapped and replaced. In conservation areas and for listed buildings, maintaining the original windows can be non-negotiable, and when renting property, Secondary Glazing is a significantly more cost effective option, as you are unlikely to stay in the property long enough to recover the investment of changing the windows themselves.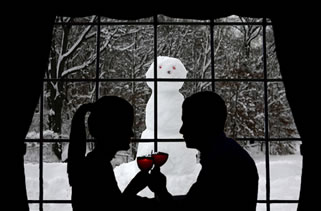 Looking beyond Double Glazing, Secondary Glazing can be ideal, but this has its critics and supporters. It is easy to assume that a lower cost system will look cheap, but this can be nonsense, just choose a well designed system and install it carefully – a good Secondary Glazing system is inconspicuous and does not detract from attractive original features such as sash, stained glass or leaded windows. Secondary Glazing is reversible and offers significant choice, having options of magnetic, adhesive and screwed fixings; removable, opening, sliding and fixed panels for fitting mostly indoors but sometimes on the outside of the house where required. You will still need to check the existing window space though, as Secondary Glazing can be obstructed by protruding fittings, uneven window surrounds or cavities and close fitting shutters, so of course a poorly chosen or installed system will disappoint.
There are other methods of insulating windows. Thick and/or lined curtains, blinds with heat reflective surfaces or air pockets and shutters all have their part to play, although they almost inevitably interfere with daylight coming in and the view outside. These are perhaps best used after dark, and in combination with Secondary Glazed panels. There are other ways to insulate rooms of course, including underfloor or floorboard insulation, draught excluders for all around the doors and letterboxes, blocking fireplaces, thermal wallpaper and more.
It is good to consider combining different solutions, and many of our customers fit Secondary Glazing to existing Double Glazed windows, to provide extra heat and noise insulation. Because of the extra air gaps involved, this may be a better solution than Triple Glazing, and Secondary Glazing over a single glazed window can be a more suitable choice than Double Glazing.
In researching this page, we read a lot of documents and comments about the effectiveness of window insulation alternatives. It was clear that there are many strong and proprietary opinions for every method (it is natural for companies to fight the corner of their products, after all), but leaving any bias aside, there was a general conclusion that for a single glazed window, Secondary and Double Glazing should both prevent around 60% of heat loss. You can achieve 20-50% heat loss reduction with shutters, blinds, thermal curtains and normal thick curtains (in that order), but they will remove most or all light. For Secondary Glazing the accurate installation of the system and achieving a thermal seal is the key. Get this right, and Secondary Glazing is a winning solution – and with Easyfix systems, the designs and components are such that a modest DIYer can fit them properly, using normal household tools and the videos and instructions on each product page.