Easyfix Magnetglaze Extreme – high grip detachable insulation
Magnetglaze Extreme was introduced specifically for large panes and very draughty windows, where the extra grip provided by 25.4mm magnets and steel combats the heavier plastic glazing sheet and the effect of high winds on leaky outer panes. The system is effective for both heat and noise insulation, the finished panes being easy to take off and put back. Magnetglaze Extreme is the stronger version of our popular
Magnetglaze system
, which remains very suitable and cost effective for small to medium panes where howling draughts are not an issue. For both systems, steel tape is stuck to the window surround, magnetic tape to the back of the glazing panel, allowing it to clip neatly into place. Cosmetically, they are both unobtrusive, showing the white adhesive tape on the back of the magnets, but the appearance can be rendered smarter with our Finishing Trim add-on.
Click for more
For practical and safety reasons, we recommed that you never use magnetic glazing with glass, on doors, roof lights or the opening part of a window, or externally.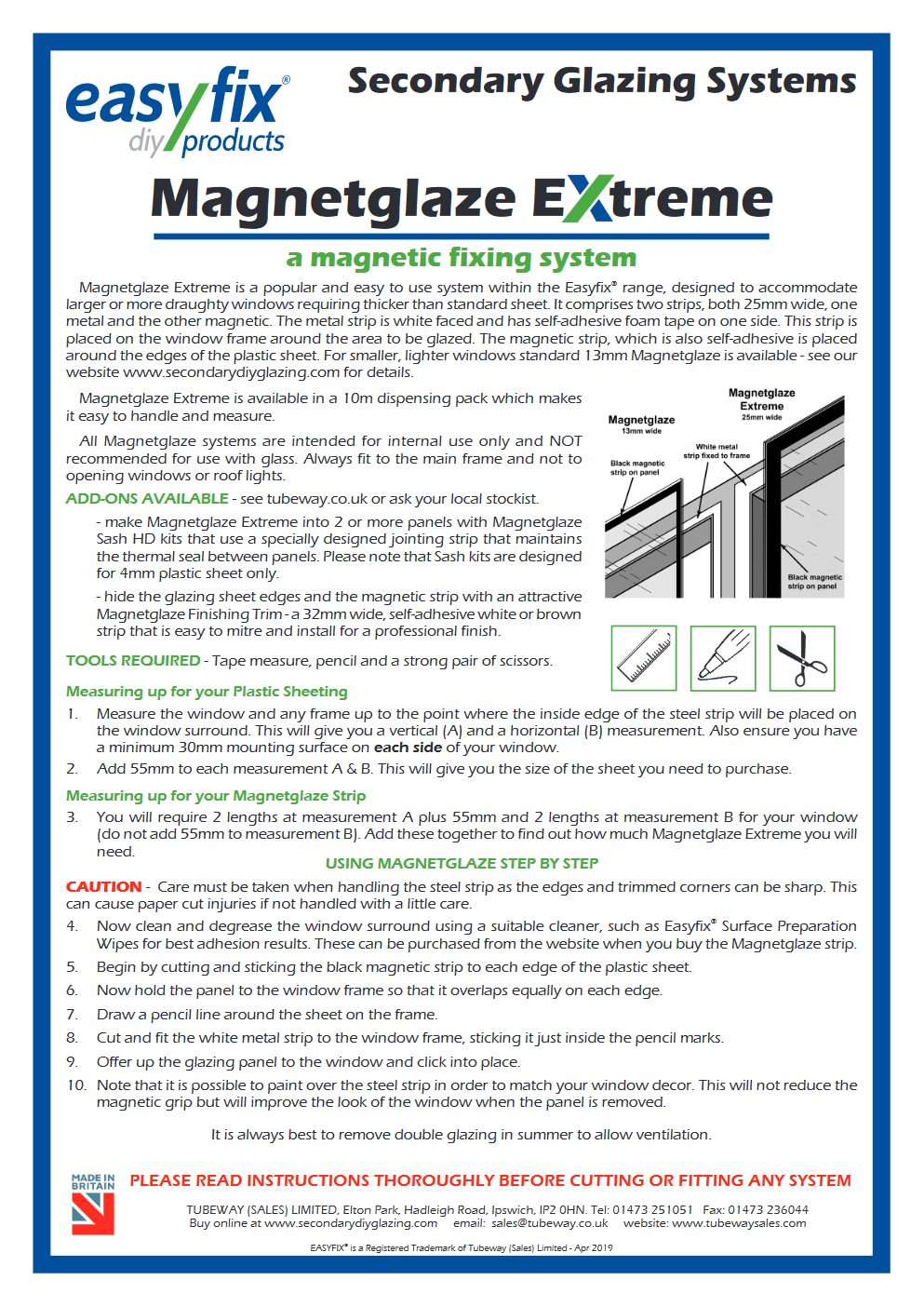 Using Magnetglaze Extreme is simple, with full step-by-step instructions for measuring up and installing in the PDF on this page. Choose from the innovative 10m dispenser pack, with adhesive steel and magnetic coils that can be drawn out and cut without difficulty, or the handy 5m kit (5m each of steel and magnets). Just clean down the surface on which the steel will be stuck, using our Surface Preparation Wipes, then cut and apply the strips as required. 2 Wipes are included in the 5m Kits, or add Wipes to your Basket for use with the 10m Packs.
Although the appearance of Magnetglaze Extreme is reasonable, many customers choose to use our Finishing Trim, which at 32mm wide can be used to mask both the tape and the cut edge of the sheet if needed. For illustrative pictures, see at the bottom of this page. The Trim comes in either White or Brown, can be neatly cut and mitred using strong scissors and gives the finished job that professional edge. Packs comprise 1 or 2 x self adhesive 5m coils plus 1 or 2 Surface Preparation Wipes. Alternatively, you can use Magnetglaze Pro Extreme, where the magnets are attached to a smart plastic capping, again in White or Brown. Should you want to joint the pane, in order to make several more manageable pieces or easier ventilation, you can use Magnetglaze Sash Heavy Duty, that provides a rigid horizontal joint but maintains full insulation. This add-on system is suitable only with 4mm sheet.
The products on this page can use glazing sheet of up to 6mm thick, which we are unable to provide. The One Stop Plastic Shop do offer this - they are an independent company with whom we have traded for many years. Click through for 6mm cut to size Polycarbonate or 6mm cut to size Acrylic if you want to buy direct from them. Otherwise, 4mm sheet tends to provide a good balance between cost, weight and rigidity, and is the most popular choice of our many customers for the Magnetglaze Extreme system.
If there is insufficient space on all sides of your window surround to fit Magnetglaze Extreme, Window Conversion Angles can be fixed to the insides of the frames giving a clean wide surface. They are heavy duty Angles with a 25mm face and 3mm thickness, in white or brown to match the kits. More information is in the PDF below, with product details on the right side of this page.
There can be window handles, beading, trim or other obstacles that make it necessary to fit your Magnetglaze Extreme panel further away from the window surround. It is useful to know that the combined thickness of the steel/magnetic tapes with their adhesives is approx 3.5mm, giving you some clearance over the obstacles, but you can also fit our self-adhesive Packing Strips in order to increase this distance. These are flat plastic adhesive strips which are easy to cut and fit. For the Magnetglaze Extreme product, the 25 x 3mm or 25 x 5mm Strips are likely to be most suitable - stick them in the correct position for your panel then add the steel tape to them, ensuring they are butted up close to maintain the thermal seal for your secondary pane.
To add opaque film to your existing outer windows, as a smart alternative to blinds or net curtains, you can via our Privacy Frost Window Film page. This cost-effective new product is attractive and easy to fit.
Display Prices
Ex VAT
Inc VAT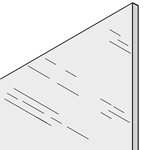 Polycarbonate Glazing Sheet
£33.00 – £59.00 per metre 2
Min height & width 100mm. Max size 2440mm x 1220mm
(height = largest dimension, width = smallest dimension)
N.B. Please check your dimensions carefully before ordering cut sheet as once this has been ordered and cut, it cannot be refunded.
Magnetglaze Extreme Steel and Magnetic Strip
Name
Price
Buy
Dispenser Pack 10m Rolls

£

52.00

Pack 5m Kit

£

32.00
Magnetglaze 32mm Finishing Trim
Name
Price
Buy
Pack 2 x 5m Rolls White

£

18.00

1 x 5m Rolls White

£

10.00

Pack 2 x 5m Rolls Brown

£

18.00

1 x 5m Rolls Brown

£

10.00
Name
Price
Buy
Pack 3 x 3m lengths White

£

30.00

Pack 3 x 3m lengths Brown

£

34.00

Bulk Pack 10 x 3m lgs White

£

100.00

Bulk Pack 10 x 3m lgs Brown

£

112.80
2.44m Packing Strips (Self-Adhesive)
Name
Price
Buy
25 x 3mm single length White

£

6.50

25 x 5mm single length White

£

9.50

12 x 2.6mm single length White

£

4.00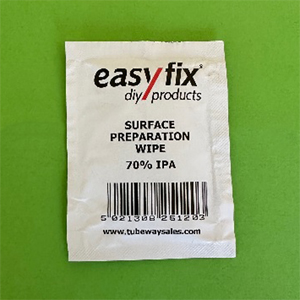 Surface Preparation Wipes - Pack of 10
£2.20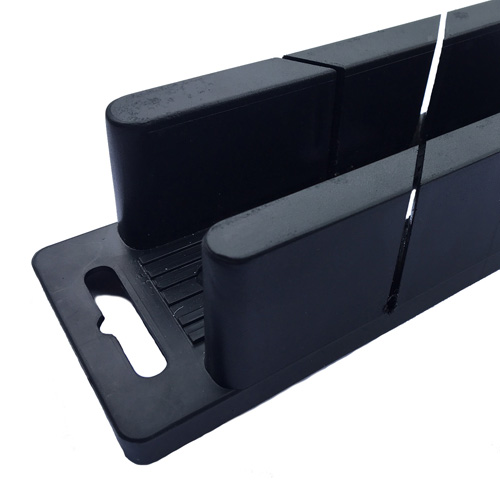 Large Mitre Block
£5.20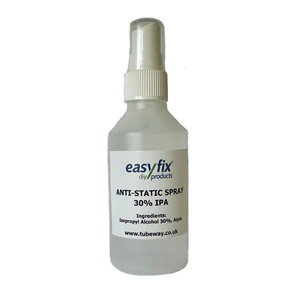 Anti Static Spray - 100ml Bottle
£4.00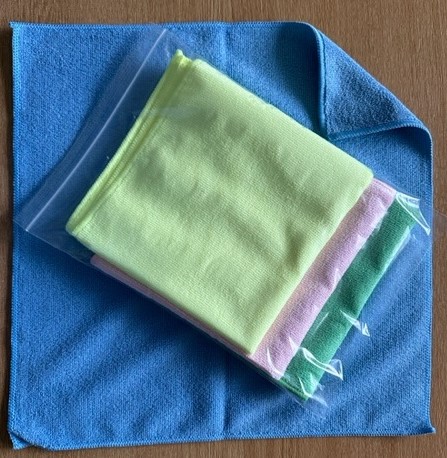 Microfibre Cloths x 3 Large (random colours)
£4.00
Easyfix Magnetglaze Extreme – high grip detachable insulation Product Reviews