Easyfix Trackglaze Vertical – Sliding Secondary Glazing
How to use Trackglaze Vertical
Measuring and Installing Trackglaze Vertical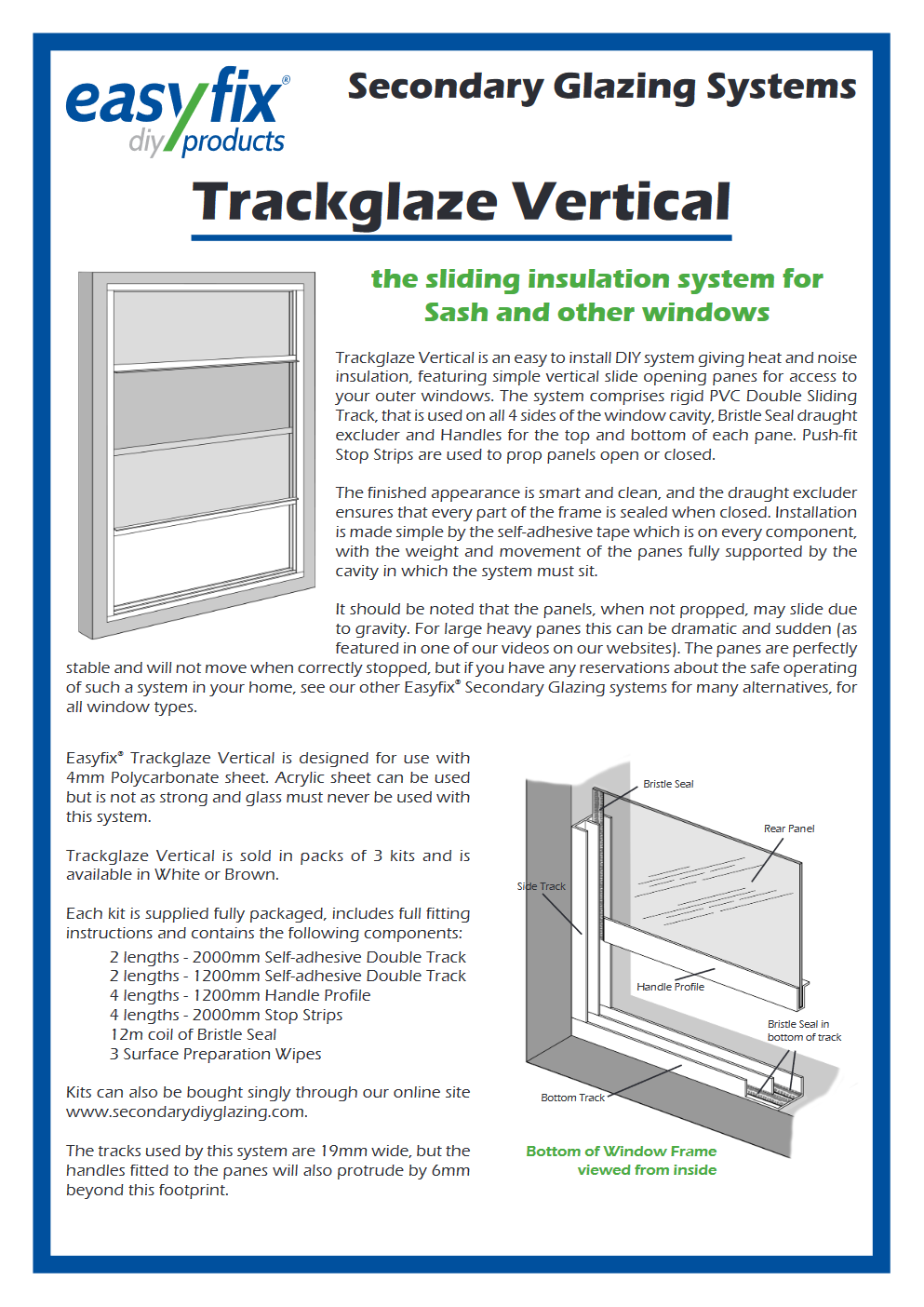 Trackglaze Vertical is a DIY sliding insulation system, for heat loss and noise protection. When the two panes are closed, bristle seal insulates within both tracks and across the visible joint. Handles clip onto the top and bottom of both panes and Stop Strips fix onto the track edges propping the panes open or raised, or stopping them opening. The system works best with 4mm Polycarbonate glazing sheet, as it is tougher than acrylic, and glass should never be used with it. Based on your measurements, the panes can meet at a height to align with the outer window. This is particularly useful for sash windows, allowing access to the centre locking mechanism before opening either top or bottom pane for ventilation. Full details of how to use, measure and install Trackglaze Vertical are in the PDF alongside.
Click for more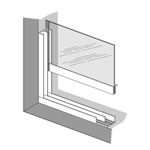 The design of the system needs to be understood before purchasing, because there are no failsafes or counterweights (apart from friction of the bristles within the side tracks) to prevent a large pane falling under its own weight, if not held when being moved or propped correctly when not. Where the windows are accessed by children, for example, this might not be suitable, so we suggest looking at our other Easyfix insulating systems if so, but Trackglaze Vertical remains perfectly safe if used as designed. For example, see our sideways sliding system Trackglaze Horizontal details.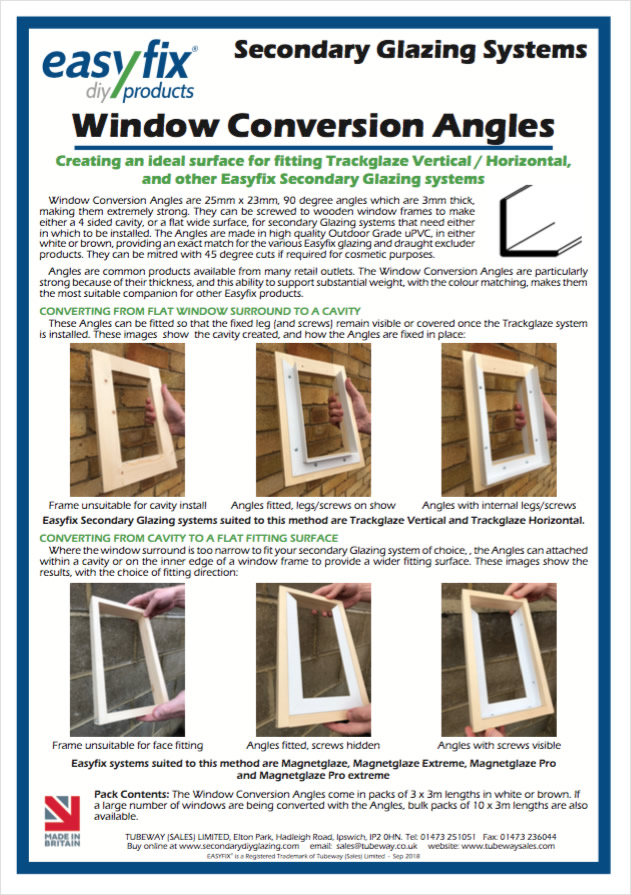 The other consideration is that Trackglaze Vertical needs to be fitted within a cavity, in order to support the movement and weight of the panes. Because most sash windows are not made with such a cavity it will need to be made with wooden battens on the window surround, or by using Window Conversion Angles.These are 3mm thick 25mm Angles that can be fixed and mitred to create the cavity, available in small or bulk packs, white or brown. These can be bought from this page - details in the PDF alongside.
Kits are available in bulk packs of 3 or singly. Each kit can insulate a window of up to 2m height and 1.2m width, and contains:
2 x 2m adhesive Tracks (for the sides)
2 x 1.2m adhesive Tracks (for top and bottom)
4 x 1.2m push fit Handles (for top and bottom of each pane)
4 x 2m push fit Stop Strips (for propping panes at suitable heights)
1 x 12m coil adhesive Bristle Seal (providing insulation when panes closed)
3 x Surface Preparation Wipes (to degrease surfaces before adhesion)
The Double Tracks are 19mm wide, with handles protruding about 6mm further, to be borne in mind for the depth of cavity needed.
To add opaque film to your existing outer windows, as a smart alternative to net curtains or blinds, you can via our Privacy Frost Window Film page. This cost-effective new product is attractive and easy to fit.
Display Prices
Ex VAT
Inc VAT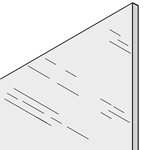 Polycarbonate Glazing Sheet
£59.00 per metre 2
Min height & width 100mm. Max size 2440mm x 1220mm
(height = largest dimension, width = smallest dimension)
N.B. Please check your dimensions carefully before ordering cut sheet as once this has been ordered and cut, it cannot be refunded.
Trackglaze Vertical 2m x 1.2m Kits
Name
Price
Buy
Bulk Pack 3 x kits White

£

104.00
Single kits White

£

49.50
Bulk Pack 3 x kits Brown

£

104.00
Single kits Brown

£

49.50
Name
Price
Buy
Pack 3 x 3m lengths White

£

30.00
Pack 3 x 3m lengths Brown

£

34.00
Bulk Pack 10 x 3m lgs White

£

100.00
Bulk Pack 10 x 3m lgs Brown

£

112.80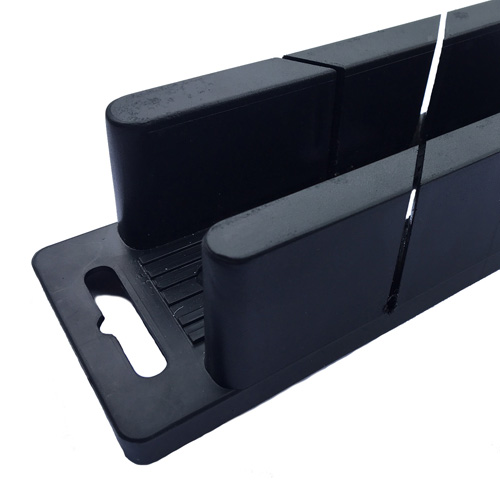 Large Mitre Block
£5.20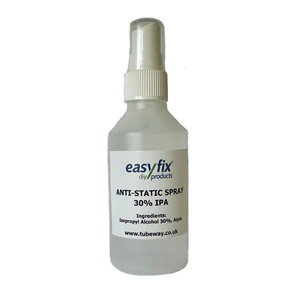 Anti Static Spray - 100ml Bottle
£4.00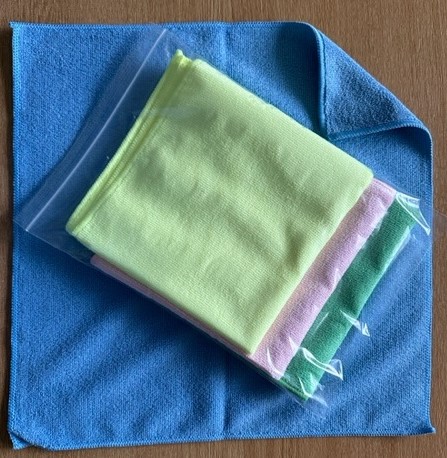 Microfibre Cloths x 3 Large (random colours)
£4.00
Easyfix Trackglaze Vertical – Sliding Secondary Glazing Product Reviews