Easyfix Trackglaze Horizontal – Sliding Secondary Glazing
Trackglaze is a horizontal sliding secondary glazing system using 4mm thick glazing sheet that offers full thermal insulation when closed, along with immediate access to the outer windows when required. It comprises PVC double sliding tracks on all 4 sides of the window cavity, a simple bristle seal around each glazing sheet and a finger pull angle to use as a handle. Each of these components has self adhesive tape applied. If it is up-and-down sliding that you need, have a look at our
Trackglaze Vertical
system.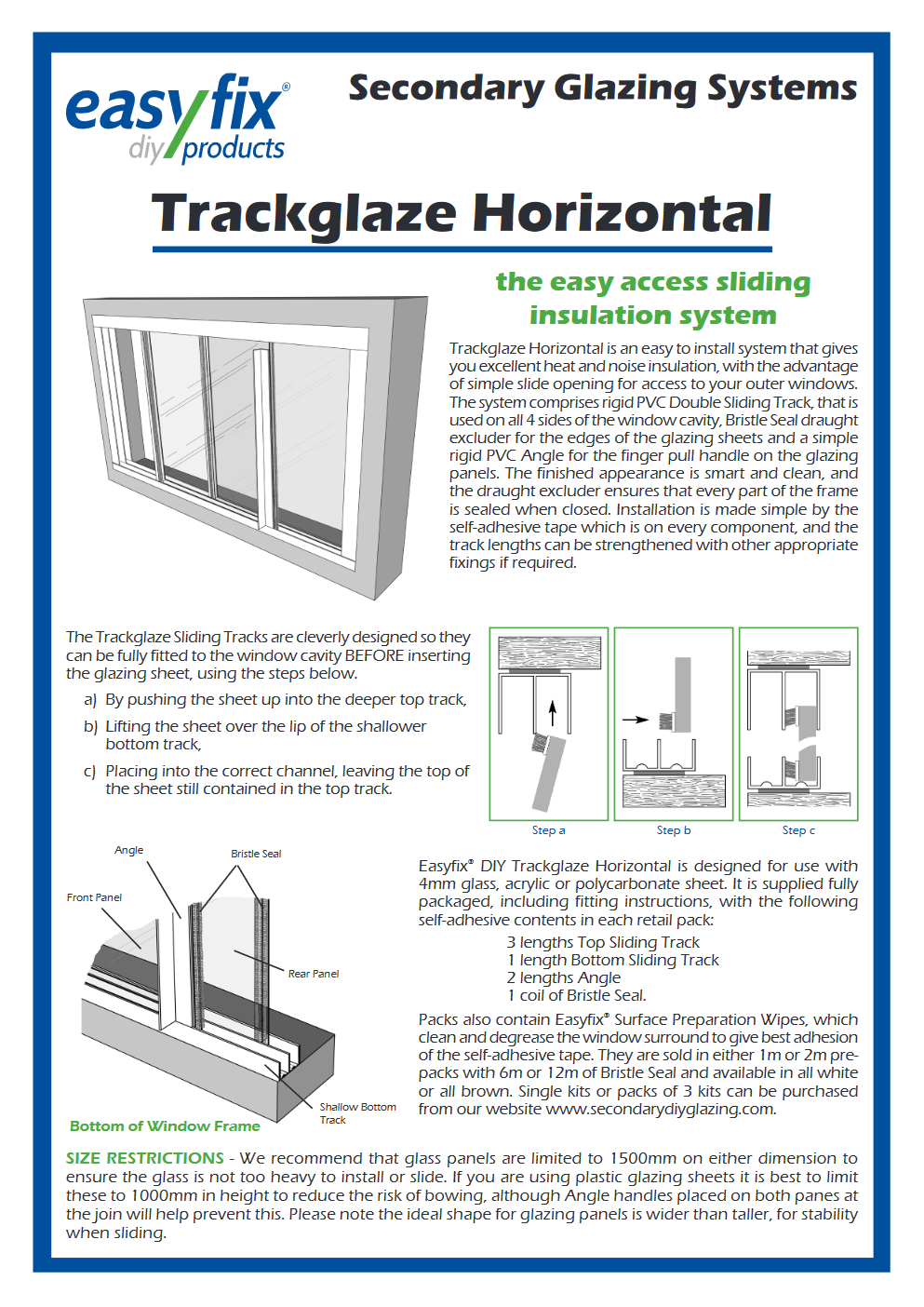 Installation of Trackglaze is simple, using standard household tools, and is described in easy stages in the video above and the printable PDF on this page. Once the tracks have been cut and stuck into place, and the bristle seal applied to the glazing sheet faces, the sheets are inserted into the tracks using the Up-Over-Down technique shown on the diagrams below, which leaves the bristle seal within the tracks around the frame for maximum insulation. Sheets can be easily removed by reversing the method.
Click for more



Trackglaze has several unique features as a DIY sliding system. Two or more panels can be used within one frame, enabling the joints between the panels to be lined up with frames of the outer windows. Ventilation and cleaning within the cavity could not be simpler to achieve, by simply sliding one or more panels, which are just as easily closed. The system can be used with either 4mm glass, or 4mm plastic sheet, with the following considerations:
Glass is comparitively heavy, so we recommend panes of 2 square metres or less (approx 20kg) in order to keep them manageable when installing and operating. A low wide pane will slide more easily than a tall narrow one, because the centre of gravity is lower. Always grind or bevel the edges of glass to make them safe to handle
Plastic Sheet is around half the weight of glass, but tall panels will bow under their own weight (breaking the thermal seal), particularly if left in the open position i.e. supported only at the top and bottom. The Angle handle will reduce bowing, but we recommend a maximum height of 1m.
Angle handles should be fitted to all the permanently visible edges of panels, both in the front and rear tracks. This will aid sliding, reinforce rigidity for Plastic Sheet and mask the bristle seal. The handles need to be facing outward to avoid obstructing sliding.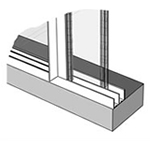 Trackglaze is supplied in kits with either 1m or 2m lengths of Track and Angle. Each kit contains 1 length of shallow bottom track, 3 of deeper top track (for cavity sides as well) and 2 lengths of Angle. 6m or 12m of Bristle Seal, and 3 or 6 Surface Preparation Wipes (for 1m and 2m kits respectively) are included with instructions. Although the lengths in the kits can be butted up together to make wider spans than 2m, we also offer 3m Extension Pairs, which are one 3m length each of the top and bottom tracks, to be used in addition to the 1m and 2m kits. This enables longer unbroken tracks to be used and is particularly useful for office installations.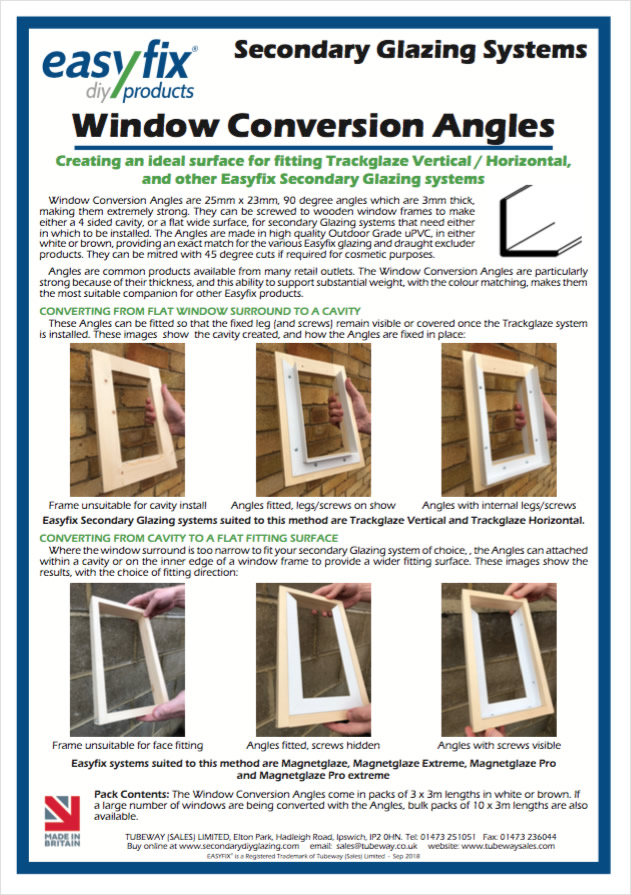 If the location in which you want to fit Trackglaze Horizontal is not a cavity, Window Conversion Angles can be attached to the faces of the window surround to give a suitable surface. These are strong Angles with a 25mm face, 3mm thick (that can be mitred), in white or brown to match the kits. More information is in the PDF alongside, with product details on the right hand side of this page.
To add opaque film to your outer windows, as a smart alternative to net curtains or blinds, you can via our Privacy Frost Window Film page. This cost-effective new product is easy to fit and attractive in appearance.
Display Prices
Ex VAT
Inc VAT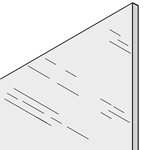 Polycarbonate Glazing Sheet
£59.00 per metre 2
Min height & width 100mm. Max size 2440mm x 1220mm
(height = largest dimension, width = smallest dimension)
N.B. Please check your dimensions carefully before ordering cut sheet as once this has been ordered and cut, it cannot be refunded.
Trackglaze Horizontal 1m Kits
Name
Price
Buy
Bulk Pack 3 x kits White

£

54.00
Single kits White

£

26.10
Bulk Pack 3 x kits Brown

£

54.00
Single kits Brown

£

26.10
Trackglaze Horizontal 2m Kits
Name
Price
Buy
Bulk Pack 3 x kits White

£

90.00
Single kits White

£

42.90
Bulk Pack 3 x kits Brown

£

90.00
Single kits Brown

£

42.90
Trackglaze Horizontal 3m Extension Pairs
Name
Price
Buy
Bulk Pack 3 x pairs White

£

30.00
Single pair White

£

15.00
Bulk Pack 3 x pairs Brown

£

30.00
Single pair Brown

£

15.00
Name
Price
Buy
Pack 3 x 3m lengths White

£

30.00
Pack 3 x 3m lengths Brown

£

34.00
Bulk Pack 10 x 3m lgs White

£

100.00
Bulk Pack 10 x 3m lgs Brown

£

112.80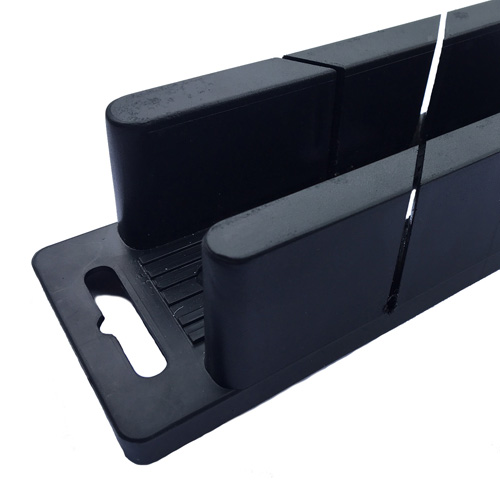 Large Mitre Block
£5.20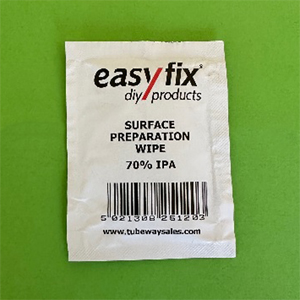 Surface Preparation Wipes - Pack of 10
£2.20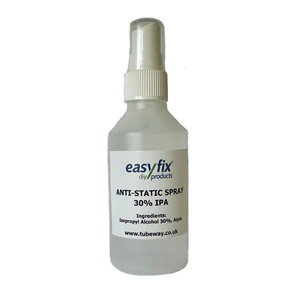 Anti Static Spray - 100ml Bottle
£4.00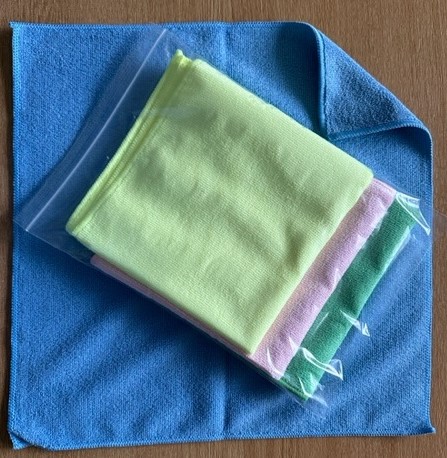 Microfibre Cloths x 3 Large (random colours)
£4.00
Easyfix Trackglaze Horizontal – Sliding Secondary Glazing Product Reviews