Easyfix Door Frame Acoustic and Smoke Seals
Insulating door and window frames is not always just about stopping draughts. Easyfix Acoustic and Smoke Seals are designed to provide 3-in-1 insulation:
Click for more
Acoustic Control, reducing the noise that penetrates into your room
Smoke Prevention, effective up to 200oc
Draught Exclusion, reducing heat loss
The Seal is stuck into the door or window frame perimeter corner using self-adhesive tape. When the door is closed against it, the special elastomeric fins bend back on contact without offering resistance, which creates an air pocket that provides the insulating barrier for noise, smoke and heat. When the door opens, the fins spring back into place. Extremely lightweight but strong, the Acoustic and Smoke Seal is very easy to fit onto a clean, degreased, flat surface.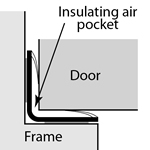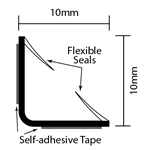 Door Frame Acoustic and Smoke Seals Product Reviews