Easyfix Privacy Frost Window Film
Privacy Frost window film is an attractive, inexpensive and quick way to update your property. It lets light in while obscuring the details of your life from the gaze of people passing by, avoiding old fashioned net curtains and cumbersome blinds.
Privacy Frost film can be added to your existing smooth glass windows, wherever discretion is required. The film is adhesive and resistant to condensation so suitable for bathrooms as well as bedrooms and downstairs windows. If you were considering changing the glass in your existing windows, Privacy Frost saves you the trouble and expense, benefiting the environment as well.
While Privacy Frost can also be added to secondary panes, this should be considered only as a semi-permanent solution because of the extra handling such panes generally receive. When installing on plastic sheet, we recommend leaving the Privacy Frost film to dry overnight before fitting the secondary glazing system. Not all of our systems suit adding window film to because of the nature of the fittings or the way they work. We suggest Superglaze, Easyglaze, Clipglaze, Magnetglaze Pro and Magnetglaze Pro Extreme are the ones to consider.
Click for more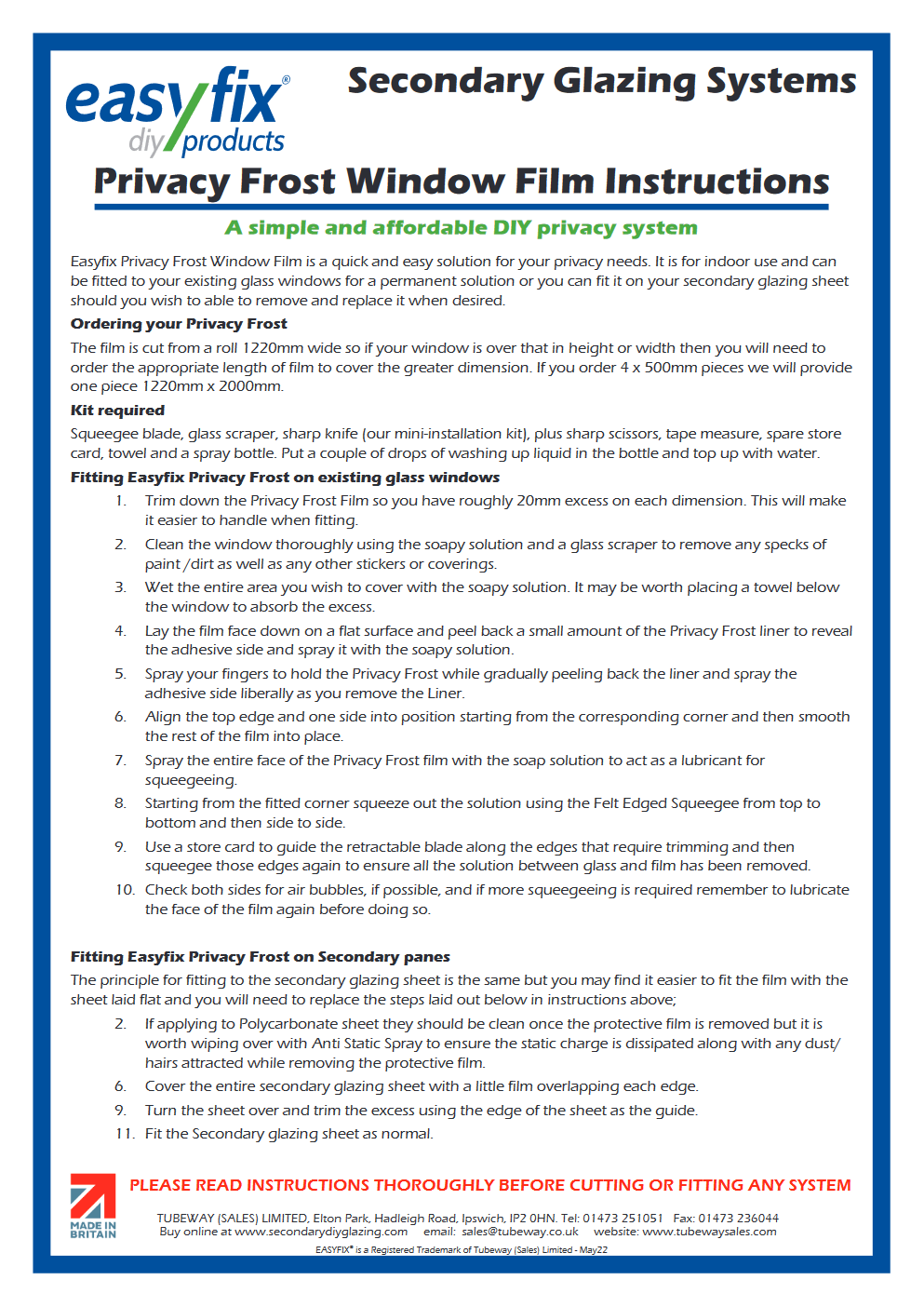 Privacy Frost fitting guide
Installation is easy for impressive and permanent results. You can open and print the instruction sheet alongside, which offers a step by step guide for fitting to either your outer windows or a secondary pane if this is what you prefer. The tools required are also described. We recommend you read the instructions fully before buying Privacy Frost, as well as using them once the window film has arrived.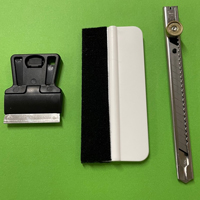 You can buy Privacy Frost in 500mm pieces, cut from a 1220mm roll, so if you buy a quantity of 1 it will be 1220 x 500mm. If your window size is larger than this or you are intending installing on several windows, you can buy a bigger quantity which will be supplied as a single piece (so quantity 4 will be one piece 1220 x 2000mm). You can also buy our mini-installation kit that comprises:
Glass Scraper
Squeegee Blade
Craft Knife
Display Prices
Ex VAT
Inc VAT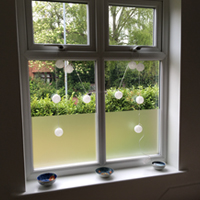 Privacy Frost Window Film
£9.00 per metre 2
Film supplied as a single roll of total length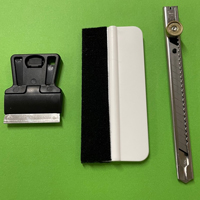 Mini Installation Kits
£4.80
Easyfix Privacy Frost Window Film Product Reviews