Cut-to-Size Polycarbonate Glazing Sheet
Clear Polycarbonate sheet is the best choice for most secondary glazing installations. It has a number of features and advantages:
Click for more
Strength - it is significantly stronger than other glazing sheet alternatives. See the action video above for break test demonstrations. Polycarbonate sheet is often used in Security applications, such as Police riot shields
UV Protection - our Polycarbonate sheet is "2UV" meaning that both sides of the sheet are coated with Ultra Violet filters, inhibiting penetration, while still allowing light through, whichever side is facing the sun. This prevents deterioration in the sheets that will occur with unprotected Polystyrene, and can occur with Acrylic Sheet, which is generally only "1UV", therefore requiring fitting the right way round
Thermal Insulation - Polycarbonate is an excellent insulator
Transparency - the same clarity as glass at half the weight
Resistance - Polycarbonate is resistant to chemicals, and fire rated to BS476/7 class 1Y
Cutting - can be cut with a jigsaw or router. Alternatively, let us cut-to-size for you
Protected - our Polycarbonate sheets are supplied with film on both sides, for protection. We recommend keeping this on the sheet for as long as possible before installation.
Edges - because Polycarbonate cannot be scored and snapped, the cut edges are never sharp and are therefore safe to handle. However, to remove any residual roughness, careful filing of the edges will do this.
What thickness of sheet to choose? Some of our products are only suitable for certain sheet thickness, but if you have a choice, e.g. with Magnetglaze, we can suggest a rough guide based on the size of the sheet in square metres:
2mm Sheet - Small windows - up to 1m sq
3mm Sheet - Medium - 1m to 1.5m sq
4mm Sheet - Large (1.5m - 2m sq) and Extra Large (2m sq+)
5 or 6mm Sheet - use only with Magnetglaze Extreme products and Clipglaze where necessary
If you want Polycarbonate sheet in smaller pieces, try our Offcut packs page.
Polycarbonate sheet, like any other plastic sheet but less so than glass, can be scratched. For information and general advice on cleaning your sheet, as well as removing static when first installed, please see our Static and Cleaning page.
The products on this page can use glazing sheet of up to 6mm thick, which we are unable to provide. The One Stop Plastic Shop do offer this - they are an independent company with whom we have traded for many years. Click through for 6mm cut to size Polycarbonate or 6mm cut to size Acrylic if you want to buy direct from them.
Glass or Plastic Glazing?
Weight can be a factor in your choice. To help you calculate the approximate weight for windows of any size, use our weight calculation tool. Simply select the material of your choice and enter the dimensions for the calculated weight.
Display Prices
Ex VAT
Inc VAT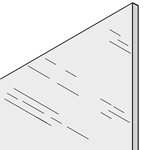 Polycarbonate Glazing Sheet
£33.00 – £59.00 per metre 2
Min height & width 100mm. Max size 2440mm x 1220mm
(height = largest dimension, width = smallest dimension)
N.B. Please check your dimensions carefully before ordering cut sheet as once this has been ordered and cut, it cannot be refunded.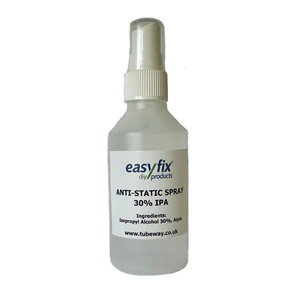 Anti Static Spray - 100ml Bottle
£4.00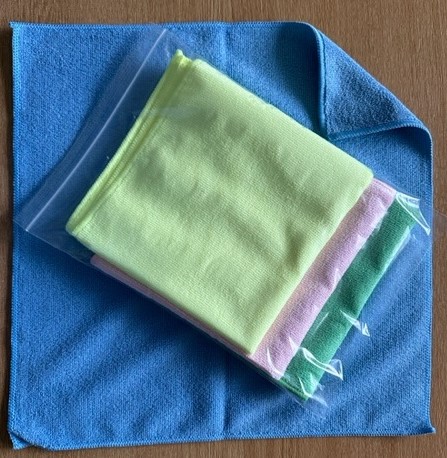 Microfibre Cloths x 3 Large (random colours)
£4.00
Cut-to-Size Polycarbonate Glazing Sheet Product Reviews