PVC Secondary Glazing, Cut-to-Size Polycarbonate & Draught Excluders
SecondaryDIYGlazing – online suppliers of Easyfix DIY Secondary Glazing Systems and Draught Excluders
Our secondary glazing systems and draught excluders are extremely effective for heat retention and noise insulation, and are easy to install with everyday tools. To help you decide which to choose, what each looks like and how to install them, we have a range of videos that show this in straightforward steps, as well as printable installation instructions for each Easyfix DIY secondary glazing system. For glazing sheet, we recommend Polycarbonate as the best material, but we have a video both to compare the different glazing sheets available, and to show you their respective breaking strengths.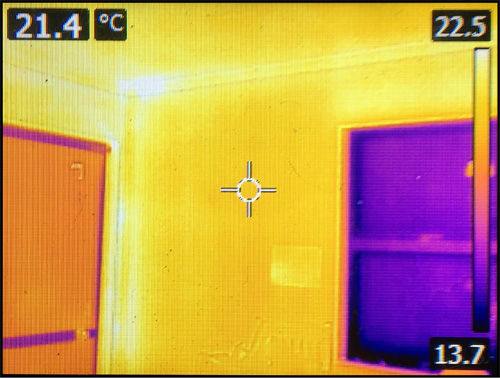 How Effective is Easyfix Window Insulation?
Thermal Image of a Part Insulated Room
In a typical room, the coldest surface will be the glass panes in a window, as these are cooled by outside air, reducing the benefit of heating inside the room. In the picture here, a customer has used a thermal imaging camera to illustrate just how effective Easyfix secondary glazing is.
The insulated walls are 22.5 degrees C

On the left, the window is 21.4 degrees, having been insulated with Easyfix Magnetglaze and plastic sheet

The window on the right has no insulation on it, and is 13.7 degrees. If this window were also draughty the effects of not insulating would be felt clearly in this part of the room
If you are unsure of where to begin when thinking about fitting Secondary Glazing then please have a look at our easy to follow Secondary DIY Glazing customer checklist. It will help guide you through some of the most common questions we experience in the early stages of your project and guide you towards finding a suitable solution.
Visit our product pages for:
Secondary Glazing systems that are magnetic or sliding, stuck or screwed down. These use plastic sheet, glass or thermal film, with a range of cosmetic finishes and choice of colours. Suitable for listed or period buildings, sash windows, noisy streets and children's bedrooms, they are as effective as replacement double glazing at a fraction of the cost

Cut Polycarbonate Sheet, in 2, 3 and 4mm thickness, up to a maximum size of 2440 x 1220mm. Guidance for how to measure up for the right sheet size is given for every glazing system

Draught Excluders for door and window frames, door bottoms and letterboxes, in anodised aluminium or plastic and a wide variety of styles, finishes and colours