Easyfix Superglaze – 2 Part Rigid Capping
Superglaze is a 2 part secondary glazing system which can be used with 3 or 4mm plastic or glass sheet. The base section provides rigid capping for the sheet edges, and also a channel through which it is screwed onto the window surround. A cover section clips into this channel to hide the screws and complete a very smart appearance, particularly as the strips can all be mitred for neat corners. The insulation provided by Superglaze is effective for both heat retention and external noise reduction.
Click for more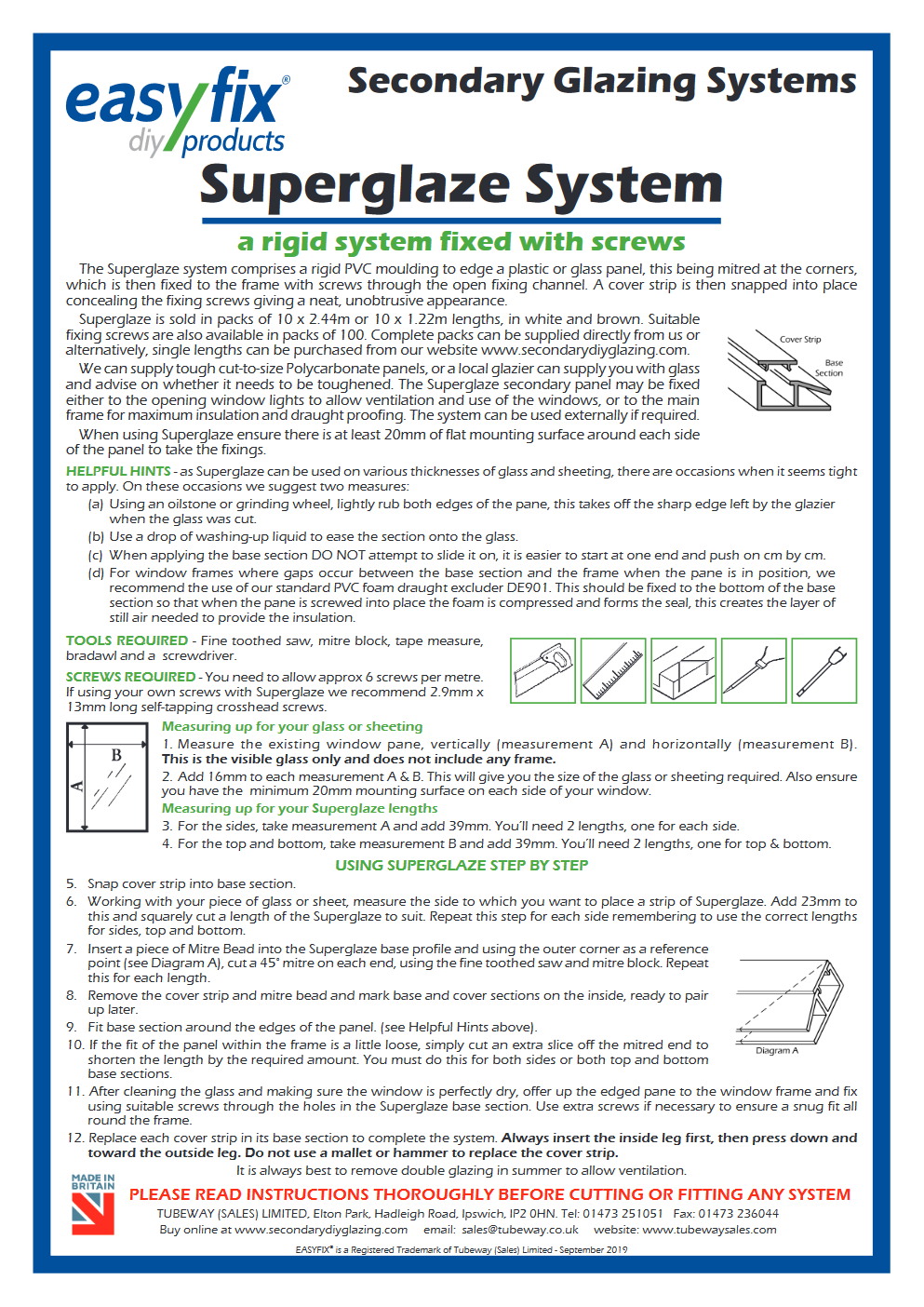 Installation is straightforward, using normal household tools, and is covered in the video above, or full instructions can be printed from the PDF on this page. The mitre bead supplied slots into the capping before cutting the mitres, and the whole system can be removed if required.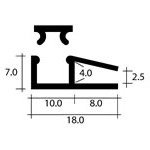 Where a window surround is not flat or has rough surfaces, Superglaze can be installed with a simple foam draught excluder stuck to the underside before screwing into place, which will even out undulations and create the thermal seal necessary for effective heat and noise insulation. Superglaze can be used externally as well as internally, and can be unscrewed and stored during the summer if required, before being re-attached for the next winter.
To add opaque film to your outer windows, as a neat alternative to net curtains, you can via our Privacy Frost Window Film page. This cost-effective new product is easy to fit.
Display Prices
Ex VAT
Inc VAT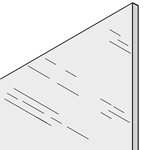 Polycarbonate Glazing Sheet
£46.00 – £59.00 per metre 2
Min height & width 100mm. Max size 2440mm x 1220mm
(height = largest dimension, width = smallest dimension)
N.B. Please check your dimensions carefully before ordering cut sheet as once this has been ordered and cut, it cannot be refunded.
Superglaze 2440mm Lengths
Name
Price
Buy
Bulk Pack 10 x lengths White

£

34.00

Single lengths White

£

5.10

Bulk Pack 10 x lengths Brown

£

34.00

Single lengths Brown

£

5.10
Superglaze 1220mm Lengths
Name
Price
Buy
Bulk Pack 10 x lengths White

£

20.00

Single lengths White

£

3.00
Image
Name
Price
Buy
Superglaze Screws - Pack of 100

£

2.00
Image
Name
Price
Buy
Mitre Block

£

4.00
Image
Name
Price
Buy
Anti Static Spray - 100ml Bottle

£

4.00
Image
Name
Price
Buy
Microfibre Cloths x 3 Large (random colours)

£

4.00
Easyfix Superglaze – 2 Part Rigid Capping Product Reviews