Secondary Glazing compared to Alternatives – Costed Case Study
Householders are rightly concerned by rising energy bills and wasted energy. They also prefer not to be in draughty or cold rooms, disturbed by outside noises and are more than happy to reduce condensation on cold nights. Having identified extra window insulation as the best solution to these issues, they then have to consider what alternatives there are, which ones look most suitable and significantly, can they afford to proceed with them?
Tubeway manufacture and supply popular and effective Secondary Glazing systems. We recognise that there are alternative ways of improving window insulation, so to put these in perspective from a customer point of view, we have analysed several of them in a simple costed case study. With each product there are pluses and minuses, and every householder will want to consider what is appropriate for the property (or in the case of listed buildings, what the relevant authorities think is suitable), and what they are happy to live with.
The property in the study is a Victorian flat with attractive but fairly standard sash windows. This is a good example, as the windows are draughty, a little mis-shapen and with light damage to a few of the catches, making them hard to close fully – typical sashes, in fact, and in need of improvement as they make the flat cold and expensive to heat in winter. For the purposes of the study we have decided that the owner of the flat wants to keep the character of the windows, but look in detail at all options for insulating them.
The window details:
All 8 windows are "one over one" vertical boxed sash windows with 3mm glass single glazed frames, on the first floor, fronted by a small private car park
Room 1 (Sitting Room) has 2 windows 1600mm x 915mm, and 2 windows 1600mm x 690mm
Room 2 (Bedroom) has 2 windows each 1600mm x 740mm , and 2 windows 1600mm x 690mm
Although draughty, the frames, sills and boxing are in adequate condition and with no obvious serious defects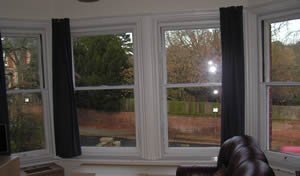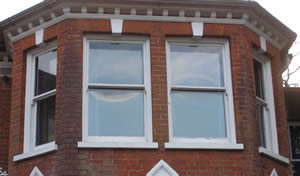 In order of cost, including Vat and delivery but with no provision for painting or staining wooden fittings, these are the results, for all 8 windows, based on at least 3 quotes per method of improvement (products 3 and 6 excepted):
£13,450 to £16,000. Full replacement of existing boxes, frames, sills (if required) and fittings, including removal of old and installation of new. The finished windows would be double glazed and in keeping with the original style. The services offered included fitting anytime of the year, on a one-out, one-in basis, i.e. not requiring temporary glazing or sheeting during the work. About 2 days work to fit, using one person outside and one inside. The "Rolls Royce" solution!
£7000 to £8500. Frame replacement, with new double glazed units, and replacement beads, cords and fittings. Refurbishment of boxing and sills not included, as the new frames are dropped into existing window surrounds and structure. Some modern features included in the price, such as the ability to remove frames for painting without needing to remove sash cords and weights.
£5350. Refurbishment and trimming of existing frames, with replacement of cords, beads and fittings, and including a magnetic secondary glazed panel on each frame. This looked a neat and effective system, being installed by the supplier, but is essentially magnetic secondary glazing (see 8 below) plus draught-proofing (see 7 below) at what we thought was rather a high price.
£2400 to £4000. Refurbishment of existing frames, with replacement of cords, beads and fittings. Includes draught proofing of refitted single-glazed windows, but not repainting. The work would be done off-site, requiring temporary glazing or weatherproof sheeting in the 2-3 week refurbishment period, although one room at a time is possible. Not suitable for autumn or winter, and expect good companies to be booked up well in advance. The variation in quotes was to allow for the current state of the frames and amount of work that might be required on them.
£2100 to £2600. Vertical DIY sliding secondary glazing, covering the window cavity, in either PVC or aluminium. All systems include glazing but do not address the outer windows other than to cover them. The systems all allow the windows to be locked open or closed, and to be glazed in plastic sheet or glass. Complexity of fitting not established.
£990. Magnetic secondary glazing cut and stuck onto pre-cut plastic glazing sheets, delivered ready for DIY installation. A very easy system to fit, with no extra cost for the supply of jointed panels, although the joint is a little basic. Essentially, product 8 but with some of the strip-sticking and measuring done in advance.
£910 to £950. DIY draught proofing kits only, with no Secondary Glazing added. Replacement beads, cords and brushes, unpainted, requiring frames to be removed and "a sound knowledge of woodworking" plus, we assume, good woodworking tools, so not quite DIY for many householders. Some companies will arrange for a competent person to fit these kits, for an appropriate charge.
£398 to £641. DIY secondary glazing products supplied by Tubeway, with cut-to-size 3mm plastic sheet purchased from one of many online suppliers.The prices shown range from Easyfix Superglaze plus the cheapest 3mm Acrylic, up to Easyfix Magnetglaze plus Magnetglaze Sash kit with the dearest 3mm Polycarbonate sheet.
Some details:
£305 to £350. 3mm cut-to-size Acrylic sheet, supplied either as one full sheet per window or 2 panels per window (there was generally no extra cost for the extra cutting).
£398 to £476. 3mm Polycarbonate, supplied as per the Acrylic. We found that Polycarbonate was 32% to 43% more expensive, albeit a much stronger product, although beware as one site we found had Polycarbonate more than double the price of Acrylic (excluded from the results).
£165. Magnetglaze and Magnetglaze Sash kits sufficient for all 8 windows.
£119. Magnetglaze on its own, if the divided panels are not required (see 6 above).
£93. Superglaze rigid PVC edging along with screws and a Mitre Block.
What conclusions can be drawn from these comparisons? Each home and householder are different, so it is really up to them, but the variety of products and techniques available for insulating windows is wide, to suit every expectation and pocket. As you can see above, it is possible to insulate the windows we selected for £2000 each or £49.75 each, not including your labour, but including delivery and Vat. Our general findings in researching the details above were that it is easy to make an online commitment to buying these products, but it was harder to get full details of exactly what the product and service included, which is necessary; for example, what is the lead time from order to delivery or fitting, and what parts are included and will you be required to fit any of them?
If we are to concentrate on one main piece of advice for DIY / online products it would be to double check your measurements as you will be responsible for any mistakes, and for supplier installed products, check thoroughly what the price does and doesn't include.
Author's note – prices correct as at November 2013, but treat this Case Study as a guide only! Tubeway believe all products surveyed to be suitable for use and all companies to be reputable.